As if there aren't enough hurdles for medical school applications – the UCAT registration has been delayed!
With the changes to BMAT, school disruptions and general panic, it's a stressful time to be applying to med school. Maybe you're even starting to annoy your family less with random medical facts?! (Tip: save the bacterial facts for dinner time)
Instead, have a read of the information here and go away with solid action points. This won't be the first time you have to adapt in the world of medicine, so get practising now!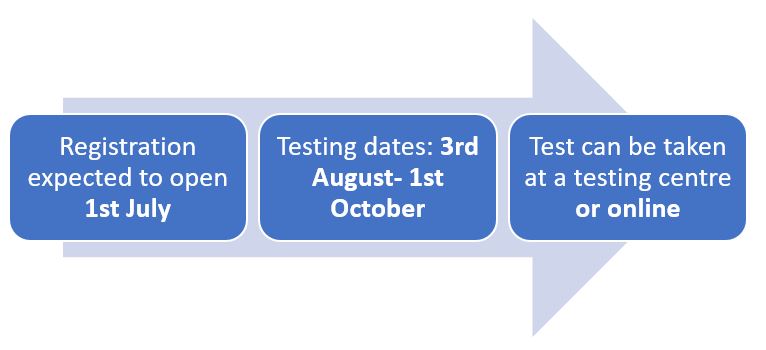 Additional dates
Bursary deadline: 1st October 2020
Registration deadline: TBC
UCAS application deadline: 15th October
Please note that all of these dates are subject to change so we would recommend checking the UCAT page regularly (and then checking here to find out what their secret jargon actually means). The overall message is that testing will be delayed, but they seem to be trying hard to make it as easy and fair for students as they can, which is nice.
For this reason, they are allowing testing online, using the Pearson Vue online proctoring service (OnVue). This sounds a bit baffling to me, so here are some important points about this service:
There is no difference in content between the online and the in-person tests
The online software monitors your activity via webcam and screen, and you can't leave the area so don't worry about students cheating!
There is a chat function to ask any questions if you have a problem on the day
If you decide to sit the online version, remember to have a quiet, private area and make sure the pet is in another room.
Also, if you're an Australia/ New Zealand student who has already booked, don't worry! UCAT ANZ testing is still going ahead as planned.
Firstly, the content of the exam will be exactly the same so no worries there. Also, the basic principal of "early preparation= better score" still applies. Remember, everyone is in the same situation so the best approach is to study hard, keep up with updates and make sure you book! Some top tips:
Get organised
This doesn't just apply to the revision and practise aspect: the UCAT powers have advised to take the test as early as possible due to all the uncertainty around it. This means you should be setting a phone reminder (or three) to register for your exam as soon as registration opens. As before, check on the UCAT website and here for the updated information, in case the test dates change.
Utilise your time
Considering normal testing is July- October, these changes might seem like an extra month of revision. Time to relax? I think you know the answer by now.
The reality is, with no extension to the test date you have effectively the same amount of time to study, but also means no more "getting it out of the way" in July. It's now arguably even more important to be organised and efficient with your UCAT preparation.
So how do you do this? The evidence around studying firmly supports the idea of spaced repetition. This is when you test yourself at spaced intervals to essentially "interrupt" the normal way your brain forgets information. By starting now, you can build your knowledge, skills and thought patterns up to be more efficient on test day, which is vital for shaving precious seconds off tricky questions.
The extra month may seem like extra time to forget, but it is actually an opportunity for more spaced repetition, meaning you can get even better! Considering spaced repetition goes hand-in-hand with active recall (i.e., practise questions).
Set up a testing environment at home
Having a quiet, distraction-free work area was important even before these changes but now it represents possible practice for an online test. Remember, the Pearson Vue centres will have other people there and, despite their best efforts, you'll still probably hear someone furiously clicking on the hazard perception part of the theory test. Plus, the place is always a bit drab and depressing, and comfort in your surroundings will help to relax those nerves (as an example: how comfortable do you feel in an exam hall?)
Make sure whenever you do mock tests, you're setting up an area that is undisturbed (notify your family members), your phone is off, and you don't leave the area during the test. You may find the simple act of focusing like this boosts your scores, and also means you're practising for the real thing- even more so if you end up taking an online test!
These changes, however annoying, are necessary to keep us all safe and the best way to approach disruptions to plans is to see them as opportunities. If you can start to do this now, you will form good thinking habits that will enhance your skills as a doctor. Remember, in medicine nothing is ever textbook- this is just another hurdle in the race.
If you're looking for support with your UCAT exam, we reckon our Crash Course does the best job of it. Our UCAT Bundle gives you access to everything UCAT related 6med have to offer, if you're interested click the link below.