The UCAT – or 'University Clinical Aptitude Test' – is an admissions test sat by students applying for medical or dentistry school in the UK. The scores are then used by universities to select students for interview.
The UCAT is a mental aptitude test and therefore assesses your problem solving and critical thinking abilities, unlike the BMAT which primarily assesses your academic knowledge.
The test is made up of 5 sections:
Don't worry if you don't know what some of these are, we will explain them in more detail later on in the article!
The reason the UCAT is included in the medical and dental applications process is because often, the majority of students will have extremely similar academic profiles, the same predicted grades and wonderful personal statements. Due to this, over the years it has become more difficult for universities to compare students and, therefore, they have brought in extra measures to help differentiate prospective students.
That being said, doing well in the UCAT isn't the be-all-and-end-all of getting into medical school, if it doesn't go as well as you'd hope on the day, you can make up for it through your Personal Statement and interviews.
The main aim of the test is to identify students with the desired characteristics that will make you a good doctor or dentist and to assess everyone from a level platform. There's a big drive to ensure that a student's background doesn't help or hinder them from getting an offer as everyone deserves an equal chance at getting an offer. 
The UCAT helps with this by assessing cognitive ability and reasoning skills rather than academic content, meaning the school you go to and the amount of preparation you do won't really affect your score.
For our Southern Hemisphere fans out there, we have an Australia and New Zealand UCAT Guide: UCAT ANZ Everything You Need To Know.
Who needs to sit the UCAT?
If you're hoping to apply for a medicine or dentistry course at a UK university, then you'll most likely need to sit the test. Some universities ask for the BMAT instead of the UCAT (see the table below), so you may end up needing to do both admissions tests if your five choices consist of UCAT and BMAT universities. 
Which universities require the UCAT?
There are currently 33 medical schools and 16 dental schools in the UK, and the majority of these include the UCAT as part of their admissions process.
The universities that require the test are:
UCAT Universities
University of Aberdeen
King's College London
Anglia Ruskin University
University of Leicester
Aston University
University of Liverpool
University of Birmingham
University of Manchester
University of Bristol
University of Newcastle
Cardiff University
University of Nottingham
University of Dundee
Plymouth University
University of East Anglia
Queen Mary, University of London
Edge Hill University
Queen's University Belfast
University of Edinburgh
University of Sheffield
University of Exeter
University of Southampton
University of Glasgow
University of St Andrews
Hull York Medical School
St George's, University of London
Keele University
University of Sunderland
Kent and Medway Medical School
University of Warwick
These are the universities that DON'T use the UCAT and use the BMAT instead:
BMAT Universities
University of Cambridge
Leeds' School of Medicine
University of Oxford Medical School
Brighton & Sussex Medical School
Imperial College London
Keele University (overseas applicants only, home applicants sit the UCAT)
University of Birmingham
Lancaster University
You have to sit the UCAT even if three out of your four choices don't require the UCAT. For example, if you were applying to UCL, Imperial, Oxford and Bristol, you'd have to sit the test even though only one of your choices (Bristol) requires the test.
Where is the UCAT test held?
Much like a driving theory test in the UK, you sit the UCAT at a Pearson Vue test centre. For those that haven't sat their theory tests or are international applicants, Pearson Vue centres are controlled computer-based test centres. 
The test is computer-based and needs to be under strict exam conditions, and these test venues ensure that you cannot cheat or get any external help. There are lots of these centres all over the UK (and internationally too) and you can usually travel to one without too much trouble.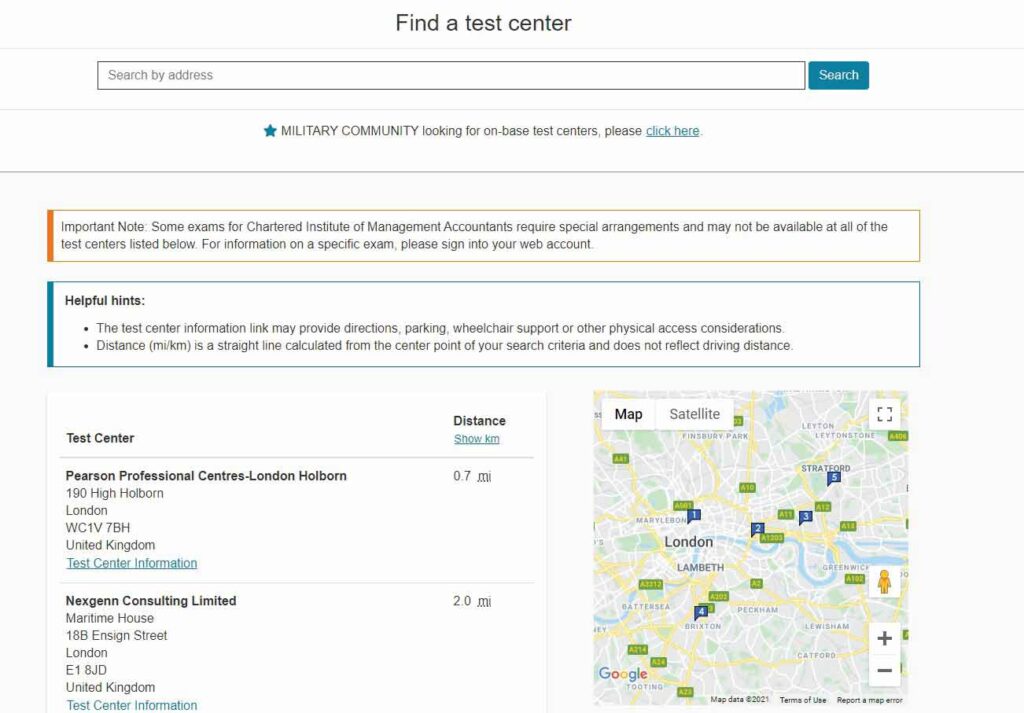 How to register for the UCAT
The best way to register for the test is to follow the instructions from the UCAT website. They will take you to the Pearson Vue website where you can find your nearest test centre and follow the instructions for booking your test. You'll need to register and create an account with them. The UCAT website has the registration dates – make sure you do it before the deadline!
Once you've registered, you'll be sent a link with booking instructions. At this point, you'll be asked to pay for the test (see the section below on the cost of sitting the exam). You'll also be sent links for rescheduling or cancelling should you need to do it.
Cost of sitting the UCAT exam
The cost of the UCAT varies depending on when and where you sit it. The UCAT website will have the details and is updated for each specific year. Generally, the test costs £55 if sat between 1st July and 31st August (for applications for the following September), which goes up to £80 between 1st September and 1st October. If you sit the exam outside the EU, the cost of the test is £115.
| | |
| --- | --- |
| Tests taken in the EU between 1st July and 31st August: | £55 |
| Tests taken in the EU between 1st September and 6th October: | £80 |
| Tests taken outside the EU: | £115 |
What to expect on the day of your UCAT exam
For those who have sat their driving theory test, the environment on the day will be familiar. If you haven't, this is what will happen:
On the day of your test, make sure to arrive 15-30 minutes before your start time to make sure everything is sorted out before you start. 

Please

 don't be late or they might say that you have to re-book your test for another day (and pay for it all over again).

You'll need to bring a photographic ID (passport or driver's licence) as well as a printed copy of your booking confirmation with you, which you can give to the receptionist at the test centre when you arrive.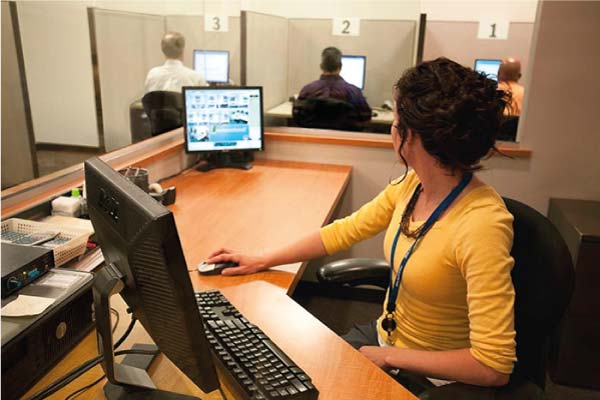 When you leave the reception area to take the test, you'll have to leave all of your things in a locker so try not to bring anything valuable like a laptop with you! It may be a computerised test, but computers are provided by the test centre. You'll have to sign a document saying you won't cheat, then you'll be given a desk number to go to and get set up.
The test itself lasts 2 hours in total, and the time is divided up between the 5 sections (though not equally so make sure you're familiar with the format before you get there – we'll go over this in more detail later). 
Just like any other test or exam you sit at school, it must be done in silence and any form of interaction with other candidates in the room may result in disqualification. If you need anything, raise your hand and then ask the invigilator as you would in any other exam situation, but know that any time taken to go to the toilet won't be added back on at the end of the exam.
Once you finish the exam, you're free to get your things and go. They will print out your results there and then before giving them to you, so don't forget them!
This is the test for students who would usually be allowed extra-time in assessments and exams e.g. students with dyslexia. The time for this test is 25% longer than the UCAT (two and a half hours instead of two) and this time is spread across each section of the exam.
To sit the UCATSEN, you must apply for access arrangements with your initial application. The arrangements must be confirmed at least 10 days before you sit the test, so it's really important to not forget to do this!
This page on the UCAT website will tell you all you need to know about dates. Below are rough dates for you to have in mind: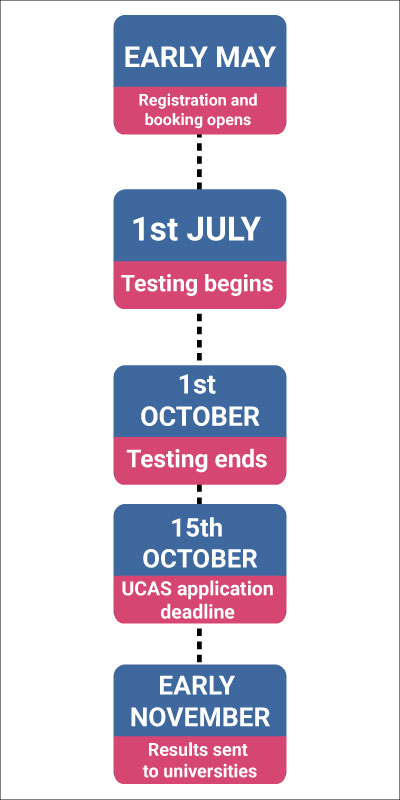 Registration and booking opens – Early May

Testing begins – 1st July
Testing ends – 1st October
UCAS application deadline – 15th October

Results sent to universities – Early November
Recommended UCAT exam booking date
It's important to note that you're only allowed to sit the UCAT once during each test cycle (i.e. each year). This means that whatever score you get, you're stuck with it for this application cycle and can only re-sit the following year. UCAT testing usually runs between July and the end of September each year. 
When booking your exam date, you want to make sure you have enough time to prep but also not leave it too late. Sitting it anytime in September or October means you have to juggle test prep with schoolwork and everything else going on with your university application, meaning it's better to sit the test sometime over the summer. Obviously, it also depends on anything else you've got happening over the summer, but make sure you've got enough time to focus on it properly.
You may want to apply strategically to medical schools by taking your UCAT early so you have access to your results before sending off your UCAS application. This means you can compare your UCAT results with each of the medical school's UCAT cut off scores from the previous year. When applying to medical schools, it is important to remember that cut off scores may vary each year and some universities place less emphasis on the UCAT as part of their entry requirements. 
As we briefly mentioned, the test itself is split into 5 sections.
The aim of this section is to 'assess the ability to critically evaluate information presented in a written form'
It consists of 44 questions
You are allotted 1 minute to read the section instructions, and 21 minutes to complete the questions
You have approximately 28 seconds per question
The aim of this section is to 'assess the ability to make sound decisions and judgements using complex information'
It consists of 29 questions
You are allotted 1 minute to read the section instructions, and 31 minutes to complete the questions
You have just over 60 seconds per question
The aim of this section is to 'assess the ability to critically evaluate information presented in a numerical form'
It consists of 36 questions
You are allotted 1 minute to read the section instructions, and 24 minutes to complete the questions

You have just over 40 seconds per question
The aim of this section is to 'assess the use of convergent and divergent thinking to infer relationships from information'
It consists of 55 questions
You are allotted 1 minute to read the section instructions, and 13 minutes to complete the questions
You have approximately 15 seconds per question
This section is used to assess your understanding of real-world situations and how to deal with them
It consists of 69 questions
You are allotted 1 minute to read the section instructions, and 26 minutes to complete the questions
You have just over 23 seconds per question
Sections 1-4 are all scored between 300 and 900 – this means that the lowest score you can get overall is 1200 and the highest is 3600. Each question is worth 1 mark.
The situational judgement section is scored slightly differently. You rank answers from what you are most likely to do to what you are least likely to do in each situation. The questions are then marked by comparing your answers to that of a panel of experts (mainly doctors). 
You will get the maximum number of points for having the same answer as these experts, you get some marks (but not full marks) for getting a reasonable answer but not the most appropriate one, and no marks for the least likely answer. These points are then added together, and you are given an overall band (1-5), with band 1 being the best and band 5 being the worst.
How to prepare for the UCAT
Seeing as the UCAT is an aptitude test, it's pretty hard to revise for it in the same way you would a normal exam. The test aims to assess your cognitive reasoning and problem-solving skills, which often can't be learnt over a short period of time. That being said, there are lots of resources available for you to practise the types of questions that will come up. This can be extremely useful as you learn the general pattern of what answers are correct, as well as becoming familiar with the questions and sections themselves so that you feel more prepared on test day.
The UCAT website has a wide range of resources here. There are also lots of courses you can go on to help you prepare for the test (we obviously recommend our own!). 
As a company, we run one-day crash courses where we go over all the main points of the test and guide you through lots of practise questions to make your own home test prep much easier. Our UCAT Ninja question bank contains over 2000 questions, all with fully worked solutions! We also have online courses and workbooks to help you through.
As we've mentioned before, the rules only allow you to sit the test once per application cycle. If you don't do as well as you'd have hoped, don't worry too much about it as you may still get offers from universities! If you don't, then you'll have to re-sit the test the following year.
You will be given a print-out of your test results immediately after you sit it. This is just so you know your own scores and can alter your application accordingly. You'll also be able to see your scores online in the same account you booked the test through. The main thing to note here is that you do not need to submit your UCAT score to UCAS yourself, this will be done for you.
The mean scores for each cohort are published on the UCAT website here.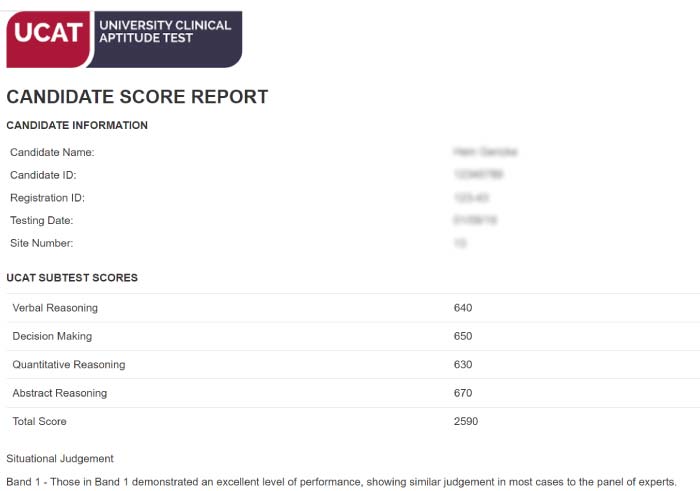 General tips applying to the UCAT

Alt + p = previous question

Alt + n = next question

Alt + f = flag current question

Ctrl + C = to make the calculator appear

Num Lock = activate number keypad (if number lock is off)

Backspace for On/C = to go back and delete a number you have inputted in the calculator.
We hope this article has given you a good introduction to the UCAT, and good luck!